Does evolution come from staying the same?
If life does not evolve, how would life improve? If dogs, cats, cows, horses and other animals did not evolve, how is there more than one breed? If life does not evolve and adapt does that not mean there is a set number of species and once those species become extinct there will never be anything to replace the species that become extinct and therefore would we not sooner or later run out of animals and plants? If you're an omnipotent being (God) creating worlds, wouldn't you want them to be self-sustaining so you didn't have to constantly re-create life? If new life were to stop being created, wouldn't you think there was something wrong with the creator? If evolution was not taking place and every creature were the result of surviving the great flood on an arc, and there are billions of different animals and lifeforms, how big would the ark have to have been?
If the creator does not believe in evolution, what does he have against it, or if the creator created evolution what do humans have against evolution?
If we are to survive it will not be because we continue to do the same things we have always done, but because we broke the rules and at the very least evolved our thinking. P.S. evolution does not disprove God, it reaffirms the creator.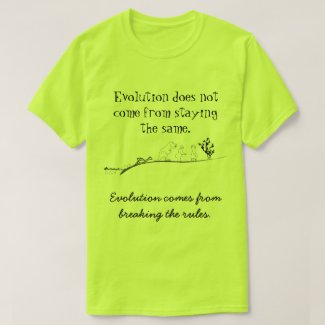 Evolution T Shirt
by
Nevadacrafter
Try Zazzle's online
t-shirt making
tool.